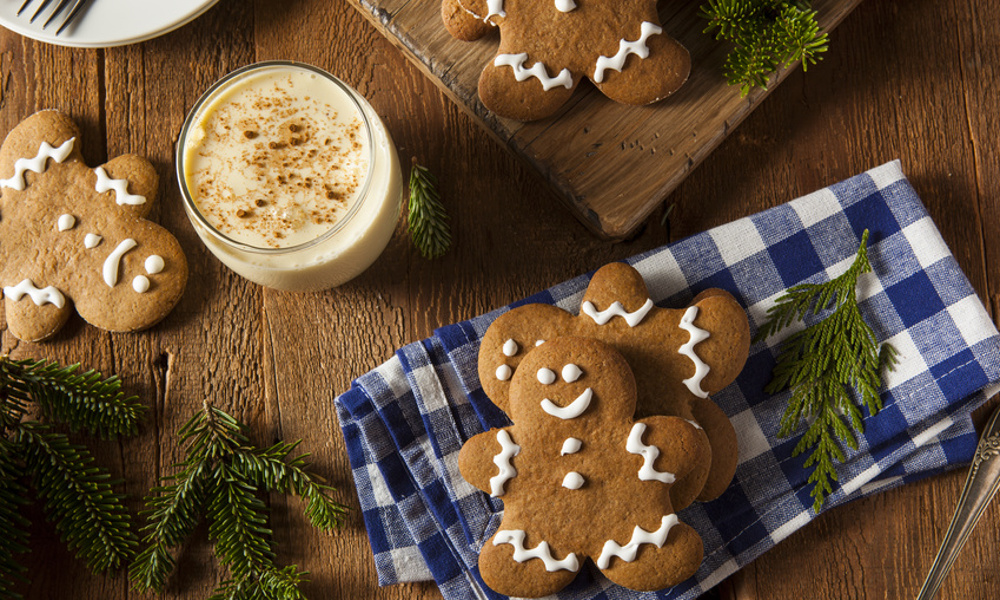 These gingerbread cookies are really tasty and this is certainly a recipe you will want to make again and again. These cookies are simple to make. Just combine the ingredients and then cut out the cookies using a gingerbread-man shaped cookie cutter, then bake them to perfection. When they are cool you can decorate them however you wish, perhaps getting the kids to help out because, after all, making gingerbread cookies is something all kids love to do, as well as eating them of course!
Our Recipe for Gingerbread Cookies
What You Will Need:
3 cups all-purpose flour
1 tablespoon ground ginger
3/4 teaspoon baking soda
3/4 cup dark brown sugar
1 3/4 teaspoons ground cinnamon
1/4 teaspoon ground cloves
1 1/2 teaspoons baking powder
1 large egg
2 teaspoons vanilla extract
1/2 cup molasses
1 teaspoon finely grated orange or lemon zest
6 tablespoons unsalted butter
1/4 teaspoon salt
How to Make Gingerbread Cookies:
Preheat the oven to 375 degrees F, and grease or line 2 baking sheets with parchment paper. Whisk the flour, baking soda, baking powder, ginger, cloves, cinnamon, and salt together. Beat the butter with the egg and sugar on a medium speed.
Add the vanilla, lemon zest and molasses and beat in until well mixed. Stir in the dry ingredients gradually, then divide the dough in half and wrap each half in plastic wrap.
Let it stand for between 2 and 8 hours at room temperature. You can also refrigerate it for up to 4 days but bring it back to room temperature before using.
Preheat the oven to 375 degrees F. Put one half of the dough on a lightly floured counter top and sprinkle some flour over it. Roll the dough out to 1/4-inch thick. You can add more flour if needed, to avoid sticking. Use a cookie cutter (a gingerbread man is best!) to cut out your cookies, then space them 1Ω inches apart on 1 of the prepared baking trays.
Repeat with the other half of the dough and other baking tray.
Bake the cookies, 1 baking sheet at a time, for 7 minutes (for softer cookies) to 10 minutes (for crispier ones). Let the cookies cool on the baking sheet until they are firm enough to transfer to a wire rack. Decorate them when they are cool using a powdered sugar glaze or royal icing.