NutriChef NCDH4S.5 Premium Food Multi Tier Dehydrator Machine

Get started on your health journey with the NutriChef Premium Food Dehydrator Machine. Simply insert your food onto the 4 stainless steel trays and jump into a healthier level of food preparation. The NutriChef Kitchen Dehydrator effectively works to remove moisture which dries your food and reduces spoilage. Your food will last longer and the removal of moisture content is a far more beneficial process than canning or freezing. Dehydrating retains up to 97% of nutritional value and is scientifically tested to enhance shelf life and, best of all, it tastes great! Use this dehydrator to perfectly preserve your fruit, snacks, vegetables, jerky, bread, flowers, and so much more. Once dried, your food will still contain vitamins, minerals, and flavor!
Compare Best Online Prices
This NutriChef NCDH4S.5 Premium Food Multi Tier Dehydrator Machine originally $82.39 drops to $54.77 at Walmart. You save 34% off the retail price for this dehydrator. Plus, this item ships free. We could not find a better price for this food dehydrator online. The NutriChef NCDH4S.5 Dehydrator Machine features 4 stainless steel trays, glass front door, electronic probe, LED display, and 360-degree hot air circulation. Sales tax is charged in most states. Deal may expire soon.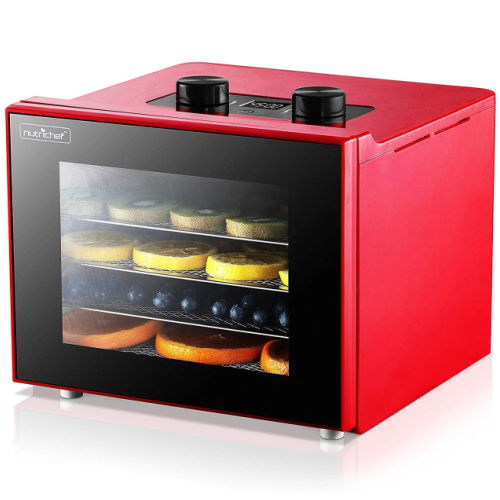 NutriChef NCDH4S.5 Premium Food Multi Tier Dehydrator Machine
Compare Online Buying Options