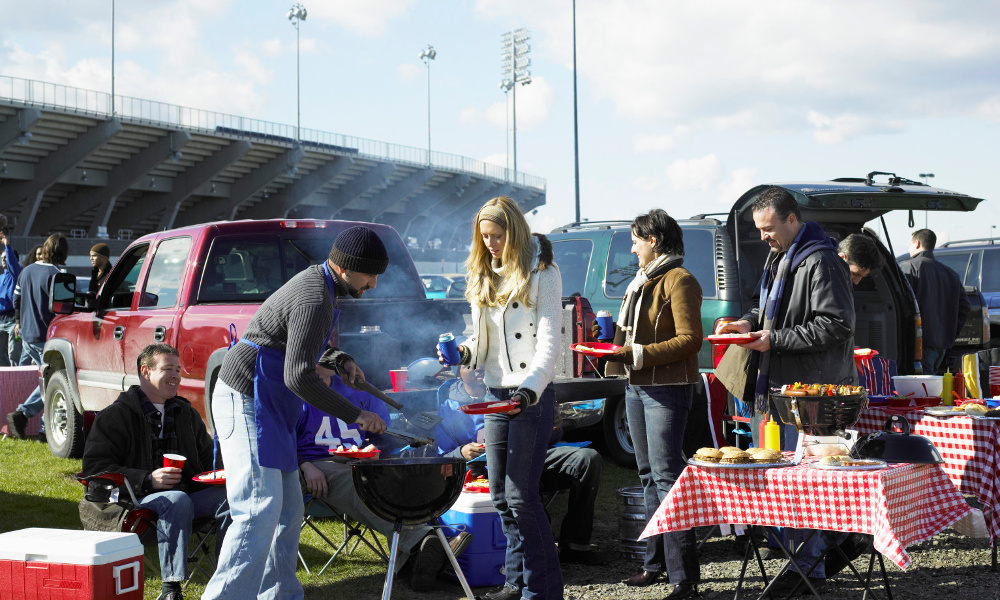 Both the NFL and NCAA College football seasons are well underway, which offers sports fans plenty of opportunities to tailgate before and after the games. It's no wonder people nowadays are getting more and more interested in tailgating at their alma mater or favorite NFL teams football game. For those inexperienced in the art of tailgating, but looking to plan the perfect tailgating party, this article is perfect for you. We share some tips to make your tailgate a great pre-game event.
Tailgating for Beginners: Top 8 Things to Know
Location, Location, Location
Be sure to contact the venue for tailgating location. Most venues list this information on their website, so be sure to check it out before traveling to the venue. This information will help you know the correct parking lot to park in, usually slotted for tailgating. When you get to your parking spot, make sure you have enough space for the size of your party.
Be Prepared
Make sure that you plan ahead and pack everything you will need for your tailgate. Common necessities includes:
Chairs
Tables
Trash Bags
Ice
Food & Beverages
Coolers
When packing food, think about what you will need and how to package it for easy access, keeping in mind that the things you will need first should be packed last. This way you won't have to unload everything out of the cooler to get to those hot dogs. Being prepared is an essential part of every good party and will help ensure the tailgate party runs smoothly.
Fill up the Propane Tanks
Don't forget the proper fuel you will need for the tailgate cooking. This usually will be bringing enough propane tanks, or simply filling up one, or it might be necessary to bring a bag of charcoal. Never assume your propane tank is full or you might end up running out during the tailgate. An uncooked burger is definitely a party foul!
Food Preparation & Packaging
Raw meats should obviously be separated from your ready-to-eat foods and beverages. It's probably a good idea to have separate coolers for the different types of foods or beverages you will be bringing. This way you can avoid bad smells and spoiling of food.
Be Found
If your guests cannot find your tailgating location, the party will never get started. Be sure to bring some flags, balloons or other ways for your guests to easily locate you. Remember that you will not be the only tailgaters, so your teams flag or balloons may be used by several parties, so bring something unique and creative!
Ready to Eat
Be ready for your hungry guests by having the food ready when they arrive. If something needs to be cooked to order, make sure it's easily accessible and ready to be thrown on the grill to shorten the time from it's raw state to being ready-to-eat.
Allow for Cooling
Before you leave, make sure any ashes and your grill is cool, so that after the game you don't find out an unexpected fire turned your vehicle into ashes. Consider taking any ashes, putting them in heavy-duty foil and dipping them into cold water so they don't cause something combustible to ignite during the game.
Keep it Clean
Help the staff that is responsible for cleaning the parking lot by cleaning up your mess. Bring enough trash bags to dispose of garbage, cans and bottles. Find an empty trashcan and dispose of this trash properly. A clean location will make the clean-up crew happy.
With these basic tailgating tips in mind, before you know it, you will be a tailgating pro!
Do you fancy yourself as a tailgating pro? Please share some of your tailgating tips & advice with our readers in the comment section below.