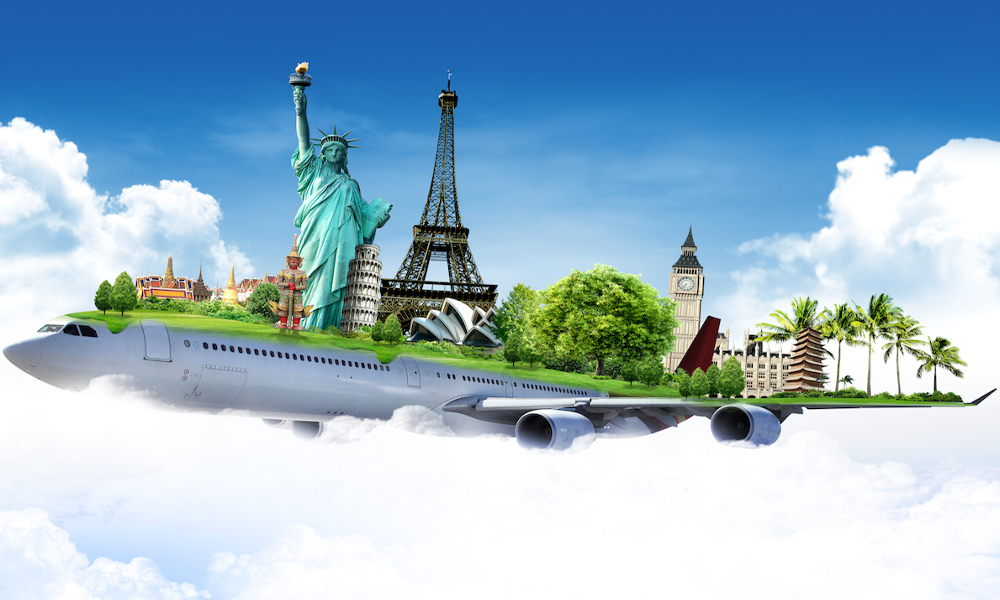 Trying to find the best discount travel sites is somewhat of a daunting task. Just a simple internet search throws up thousands of results. Travel services have become so popular, even supermarkets are offering travel packages at discount prices. You can remove this overwhelming part of your vacation search by going directly to these best sites to book travel online.
Kayak.com
Kayak.com has been around for a while and is one of the easiest and best ways to search for deals across all of the major online discount travel providers. You can search by destination or even a specific hotel. Kayak will show you results from discount travel sites like Travelocity.com, Expedia.com, Priceline.com, and Orbitz.com all in one result, so you can compare prices easily. You can use the site to book a complete flight and hotel package, or book flights, car rentals, and accommodation separate. Having the prices for the best-known sites all in one place is a fantastic time saver.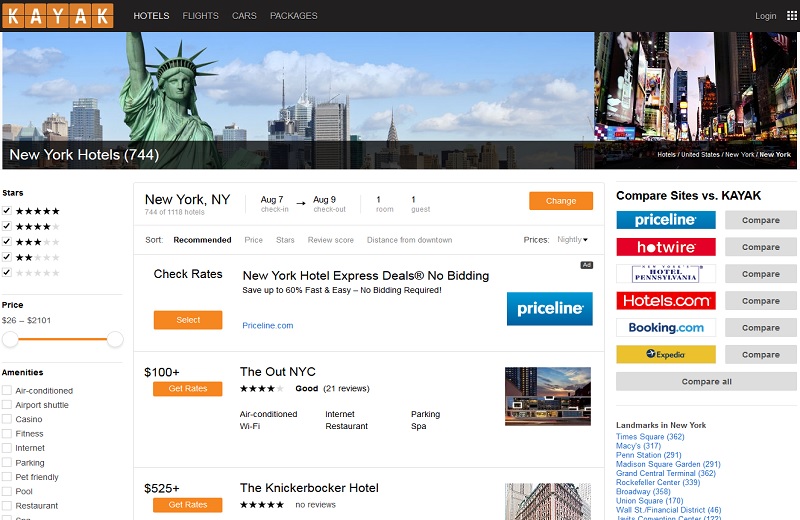 Source: Kayak.com
Lastminute.com
Lastminute.com is one of the online travel booking trailblazers. This site has been around since the great dot com boom and is still going strong. It has a unique focus on offering great deals on hotels, car rental, flights, and even vacations packages, as long as you're willing to book at the last minute. However, the site has grown since it's revolutionary beginnings and allows for booking any type of travel at any time, you just may not get the best deals by doing this. To make the biggest savings, check out the site's Top Secret Hotels offers. With these deals, you see what's on offer, but you won't get the name of the hotel until after you pay, so it's a bit of risk. However, these risks can pay off with massive savings (up to 35% off).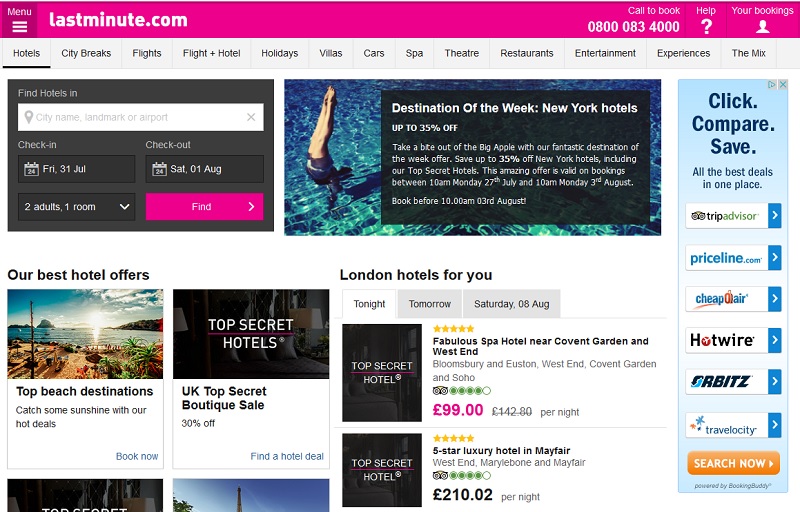 Source: Lastminute.com
Travelzoo.com
Travelzoo.com has a huge user base, with over 25-million people using the site around the world. It offers deals on every aspect of travel, including accommodation, flights, car rentals, cruises, quick city breaks, and sun destination packages. It even offers deals on spas, restaurants, and entertainment in hundreds of destinations. All deals offered through Travelzoo are screened by the company's 'Deal Experts' to ensure they are user friendly, accurate, and have suitable availability. The best part of the site is the Top 20 section, where you can see what the overall best deals are, which is great if you're undecided on a specific destination. To see the deals, you need to subscribe to the site; don't worry it only takes a minute and it's free. The wide range of travel packages and travel extras offered by Travelzoo are hard to beat and the prices are usually some of the best around.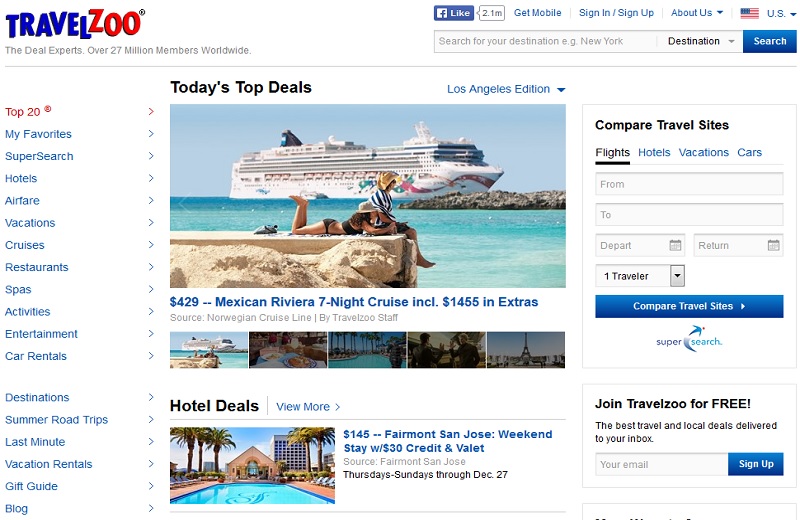 Source: Travelzoo.com
Latest Popular Discount Travel Sites We Discovered
Trivago.com: Trivago is a travel metasearch engine focusing on hotels. The site compares prices for over 730,700 hotels from more than 200 booking sites, such as Expedia.com, Booking.com, Hotels.com, Jovago.com and Priceline.com.
Have you found a great site offering huge savings on travel packages? Share it with us in the comments section below.
Save