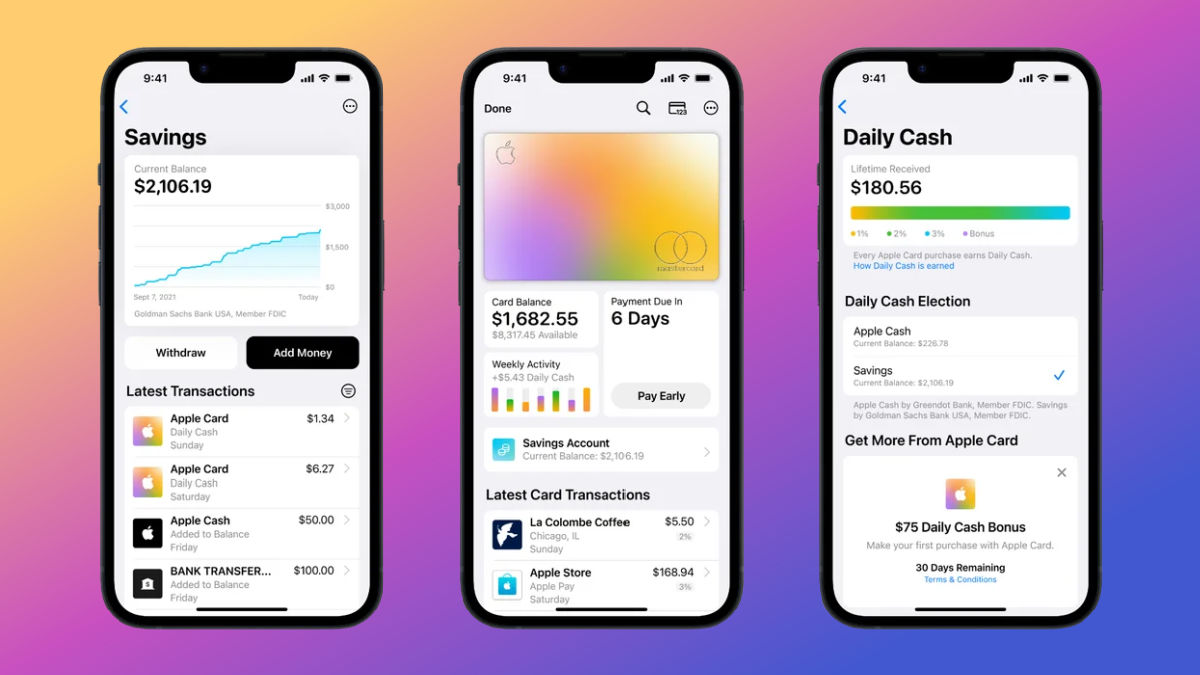 Apple, the technology giant known for its innovative products and services, has recently announced its foray into the world of finance with its new high-yield savings account. The Apple Savings account is designed to offer users a safe and easy way to save money while earning a higher and competitive interest rate.
So, what exactly is Apple Savings, and how does it work? Let's take a closer look.
What is Apple Cash Savings?
Apple Savings is a new savings account offered by Apple in partnership with Goldman Sachs Bank USA, a member of the FDIC. The account is designed to be easy to use and accessible through the Apple Cash card in the Wallet app on iPhone or iPad. The savings account uses your Daily Cash from Apple Card purchases to earn you interest.
The account offers a high yield interest rate of 4.15% APY, which is significantly higher than the national average for savings accounts. This means that users can earn more interest on their savings without having to take any risks with their money. Plus, there are no fees or minimum balance requirements.
How Does Apple Cash Savings Work?
To open an Apple Savings account, users must have an Apple Card, which is a virtual credit card. The card can be used at retailers that utilize Bluetooth at their payment portal. Once the payment is made, the cardholder receives 2% in Daily Cash payments (3% at Apple & with certain products/brands).
The Apple Savings account will take your Daily Cash earnings, as well as deposits, to earn you your 4.15% annual interest. You can access and view your Apple Savings account in the Wallet app on iPhones & iPads. You can access your money through the Wallet app to make withdrawals and make purchases with Apple Pay.
What Are The Benefits of Apple Savings?
There are several benefits to using Apple Savings as a savings account. First and foremost, the account offers a competitive interest rate of 4.15%, which is significantly higher than the national average for savings accounts.
In addition to the high yield interest rate, Apple Savings is also very easy to use. The account is accessible through the Wallet app on iPhone or iPad, which means that users can manage their savings from anywhere at any time. There are no fees associated with the account, and users can withdraw their money at any time without penalty.
Another benefit of using Apple Savings is the peace of mind that comes with knowing that your money is safe and secure. The account is FDIC-insured up to $250,000, which means that users can feel confident that their money is protected in the event of a bank failure or other financial crisis.
Finally, using Apple Savings can help users develop good savings habits. By making it easy to save money and earn interest, the account encourages users to save more and spend less. This can be especially helpful for those who struggle to save money or who want to build up an emergency fund.
What Are The Downsides to Using Apple Savings?
While there are many benefits to using Apple Cash Savings, there are also some potential downsides to consider. One downside is that the account is only available to iPhone and iPad users, which means that Android users and those without an Apple device will not be able to take advantage of the account.
Another potential downside is that the interest rate on the account is not fixed and may change over time. This means that users may not always earn the same rate of interest on their savings.
Additionally, there are transfer limits to Savings and from Apple Cash.
Are you an Apple Cardholder? Do you plan to opt-into this new Savings account? Share your thoughts with our readers in the comments below.
---
Official Apple Press Release
Starting today, Apple Card users can choose to grow their Daily Cash rewards with a Savings account from Goldman Sachs, which offers a high-yield APY of 4.15 percent1 — a rate that's more than 10 times the national average.2 With no fees, no minimum deposits, and no minimum balance requirements, users can easily set up and manage their Savings account directly from Apple Card in Wallet.3

"Savings helps our users get even more value out of their favorite Apple Card benefit — Daily Cash — while providing them with an easy way to save money every day," said Jennifer Bailey, Apple's vice president of Apple Pay and Apple Wallet. "Our goal is to build tools that help users lead healthier financial lives, and building Savings into Apple Card in Wallet enables them to spend, send, and save Daily Cash directly and seamlessly — all from one place."

Once a Savings account is set up, all future Daily Cash earned by the user will be automatically deposited into the account. The Daily Cash destination can also be changed at any time, and there's no limit on how much Daily Cash users can earn. To build on their savings even further, users can deposit additional funds into their Savings account through a linked bank account, or from their Apple Cash balance.

Users will also have access to an easy-to-use Savings dashboard in Wallet, where they can conveniently track their account balance and interest earned over time. Users can also withdraw funds at any time through the Savings dashboard by transferring them to a linked bank account or to their Apple Cash card, with no fees.4

The new Savings account from Goldman Sachs builds upon the financial health benefits that Apple Card already offers, with absolutely no fees,5 Daily Cash on every purchase, and tools that encourage users to pay less Apple Card interest — all, while offering the privacy and security users expect from Apple.

Annual Percentage Yield (APY) is 4.15 percent as of 4/14/2023. APY may change at any time. Maximum balance limits apply. Savings is available with iOS 16.4 and later.
Accurate as of the time of publication. The national average rate referenced is from the FDIC's published National Rates and Rate Caps for Savings deposit products, accurate as of 3/20/2023. See the FDIC website for more information.
Savings accounts are provided by Goldman Sachs Bank USA, Salt Lake City Branch. Member FDIC. Savings is available to Apple Card Owners and Co-Owners, subject to eligibility requirements.
Transfer limits apply to Savings transfers to and from Apple Cash. See the Deposit Account Agreement for more information regarding transfer limits.
Variable APRs for Apple Card range from 15.74 percent to 26.74 percent based on creditworthiness. Rates are as of April 1, 2023. Apple Card is subject to credit approval, available only for qualifying applicants in the United States, and issued by Goldman Sachs Bank USA, Salt Lake City Branch.

Apple Newsroom, Updated April 17, 2023