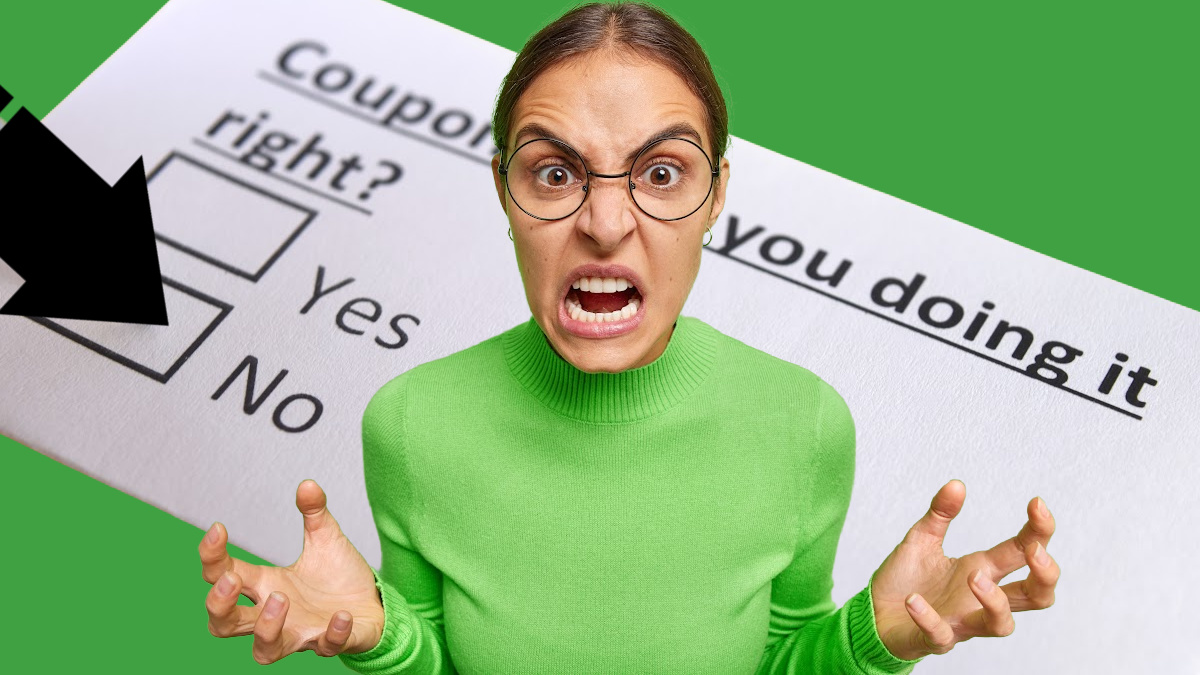 It can be incredibly frustrating when you have a coupon or promo code to use at your favorite online store and it simply won't work. You probably don't want to miss out on your discount, but you are also equally confused and wondering why the coupon code doesn't work.
This article is to help give you all of the reasons why your promo code is not working. We've examined twenty potential reasons why this keeps happening. We will start with the most common reason, it is expired, and continue our list in no particular order. Be sure to let us know in the comments any other common reasons coupon codes don't work online.
Common Reasons Online Coupons Don't Always Work
Expired Codes: Promo codes typically have an expiration date. If the code has expired, it won't work. A lot of stores will list the expiration date, but some don't so you might not realize the code is expired.
Limited availability: Some coupons or promo codes may be limited to a certain number of uses. Once the limit is reached, the code won't work. We see this often with food delivery apps.
Invalid code: If you enter the code incorrectly, it won't work. This is of course an obvious reason, but we have to at least mention it. Make sure to double-check the code and if it's listed somewhere online, copy the code, as you might have entered a zero when the code is actually using the letter 'O'.
Minimum order value: Some codes require you to spend a certain amount of money before the discount will be applied. This is common for free shipping offers and stores that offer different discounts based on tiered purchase totals (e.g. $15 off $100, $25 off $150). Make sure you are using the correct code.
Ineligible items: Some codes may only be valid for certain items or categories of products. The fine print should list this information, but it is not always easy to find.
Specific conditions: Some codes may only work if you meet certain conditions, such as being a first-time customer or using a specific payment method.
Restricted locations: Some codes may only be valid in certain locations or countries. This is more common with customer referrals, but can happen with coupons.
Technical issues: Sometimes, there may be technical issues with the coupon or promo code system that prevent the code from working. Simply try again later to see if it works.
Third-party coupons: Some third-party websites may offer coupons that are not valid or have already expired. Coupon websites that allow the community to share coupon codes often have this problem as some users don't realize the code they posted is unique to their purchase (i.e. the store emailed them a unique, one-time use code).
Fraudulent codes: Some scammers create fake coupons or promo codes to trick people into giving them money or personal information. You may see this with phishing websites or mentioned in spam emails. Never click a link in an email! Simply go directly to the stores website, since you should already know their website URL, and enter your code there.
Manufacturer restrictions: Some manufacturers may restrict the use of their coupons to certain retailers or locations. Also, stores may do the same and exclude certain brands or manufacturers.
Outdated websites: Some websites may not update their coupons or promo codes regularly, leading to expired or invalid codes. Websites that test their published coupons regularly should be okay.
Multiple discounts: Some retailers may not allow you to combine multiple discounts or coupons. This is commonly referred to as stacking coupons. Most stores will say something like 'coupon cannot be combined with any other offer' in the fine print.
Price changes: If the price of an item changes after you apply the coupon code, the code may no longer be valid. For instance, if the item goes to clearance, the coupon may not work for these sale items.
User-specific codes: Some codes may only work for specific users or accounts. Often people don't realize the coupon sent to them in an email from the store is unique to them and single use only. A tell-tale sign is when the coupon is quite complicated using a lot of random numbers and letters.
Server overload: If too many people are trying to use a coupon code at once, the retailer's server may become overloaded and prevent the code from working. Simply try again later.
Time-sensitive codes: Some codes may only be valid for a limited time, and if you don't use them within that time frame, they won't work. This can happen if a coupon website publishes a code before the applicable sale date. Stores typically ask these websites to share the offer when it starts to avoid any confusion.
Non-stackable codes: Some codes may not be able to be combined with other promotions or discounts. This goes backed to what was mentioned with multiple discounts.
Limited inventory: Some codes may only be valid for a limited number of products, and once they sell out, the code won't work. This is very common with clearance and sale items. Check to see if the store offers a rain-check to use when supply returns.
Excluded brands: Some promo codes may exclude certain brands from the discount offer. This happens a lot with electronics and designer fashion brands. You can usually find a list of excluded brands in the fine print.
In-store only: Some coupons are only valid when you use it in-store. The opposite can happen when some coupons are only valid with online purchases or store & curbside pick-up purchases.
What are some of the reasons you found coupon codes not working online? Share your thoughts with our readers in the comments below.